FSD Africa @AFSIC 2023
15 September 2023 | 6:00 pm
LONDON, United Kingdom, 6 September 2022, /African Media Agency/- This year FSD Africa joins AFSIC 2023 in celebrating their 10-year anniversary with a decade of impact in strengthening and greening financial markets in Africa. At AFSIC 2023, FSD Africa will host an afternoon of high-profile dialogue including sessions entitled Leveraging Carbon Markets for Africa's Green Transition, Africa's Green Future, Harnessing…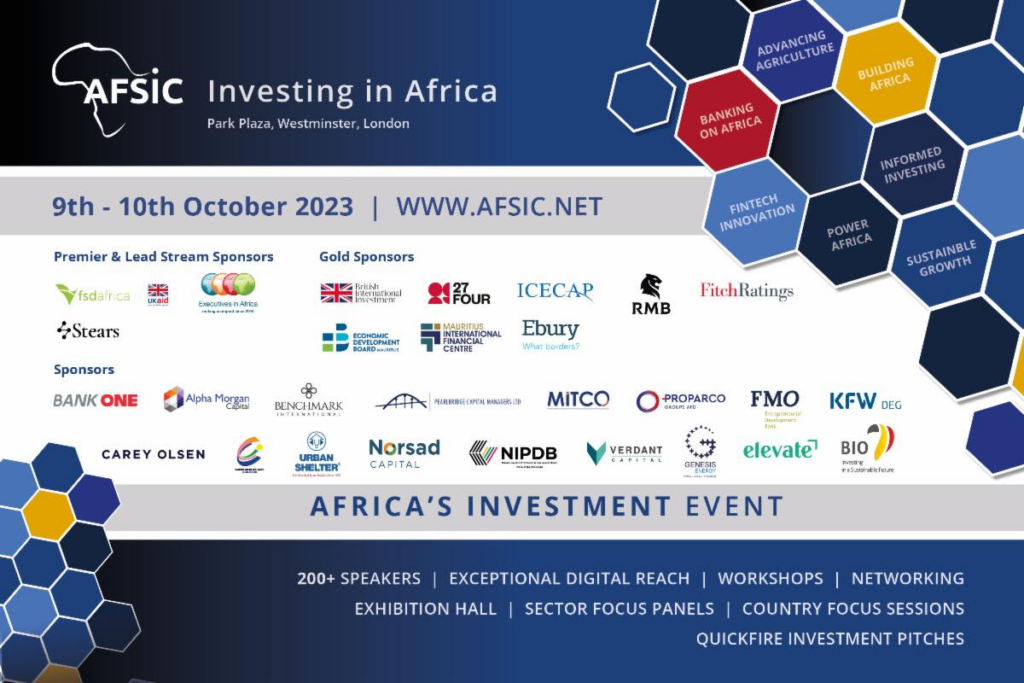 LONDON, United Kingdom, 6 September 2022, /African Media Agency/- This year FSD Africa joins AFSIC 2023 in celebrating their 10-year anniversary with a decade of impact in strengthening and greening financial markets in Africa. At AFSIC 2023, FSD Africa will host an afternoon of high-profile dialogue including sessions entitled Leveraging Carbon Markets for Africa's Green Transition, Africa's Green Future, Harnessing the Power of Finance for Nature and Novel Financing Structures to Unlock Africa's Climate Agenda.
FSD Africa, one of AFSIC 2023's top sponsors, is focused on making finance work for Africa's future. From its base in Nairobi, Kenya, its 35 financial sector experts work alongside partners to design and deliver programs in more than 30 countries across Africa with the aim of driving large-scale change in financial markets and accelerating the role of finance in Africa's green economic growth. Panel content at AFSIC 2023 will feature excellent invited speakers who are leaders in their field, and they will take advantage of discussing the below hot topics ahead of the November 2023 COP28.
Leveraging Carbon Markets for Africa's Green Transition
According to some estimates, carbon offsets in the form of tradable carbon credits could generate billions of dollars for African countries by 2030 offering a major source of funding for the continent's green economy. The recent auction in Nairobi, Kenya, of 2.2m carbon credits organized by a Saudi company was an indication of the huge demand and the opportunity that the voluntary carbon market presents for Africa and for investors interested in supporting Africa's green transition. But there are many challenges that need to be overcome including concerns over regulation, market integrity, pricing, and transaction costs.
In this fireside chat, leading entrepreneur James Mwangi, co-founder of Dalberg Advisors, founder of the Climate Action Platform for Africa and CEO of Africa Climate Ventures, a venture-builder focusing on carbon mitigation, capture and removal, discusses the opportunities for companies and investors and the challenges facing the market.
Africa's Green Future: Unlocking Capital for Climate-Positive Growth
Africa has the potential to achieve both climate targets and economic prosperity through a climate-positive growth path. However, this requires substantial investment and creative solutions across the finance sector. From small climate-tech start-ups to large sustainable infrastructure projects, mobilizing capital is crucial to realizing this ambition.
In this session delivered in a TED talk style, experts from capital markets in Africa and globally will discuss how innovative approaches in finance can transform green growth and resilience on the continent. By unlocking capital and fostering collaboration, Africa can pave the way for a sustainable and prosperous future.
Harnessing the Power of Finance for Nature
This session will present current investable nature-positive opportunities for institutions. High-level speakers from both financial institutions and development organizations will discuss the role of governance and frameworks such as the TNFD (Taskforce on Nature-Related Financial Disclosures) as a catalyst for investment in nature. The session will also elicit debate and discussion on the role of finance in enabling nature conservation from the perspectives of the real economy for instance by presenting examples of where financing for nature has worked in Africa.
Novel Financing Structures to Unlock Africa's Climate Agenda
Africa faces significant challenges in financing its climate agenda with traditional funding models often insufficient for implementing ambitious climate projects across the continent. To overcome this, novel financing structures are emerging as solutions to unlock the necessary resources. These new financing approaches go beyond traditional grants and loans to encompass mechanisms such as climate bonds, green bonds, carbon exchanges, and alternative investment vehicles along with instruments that reduce private investment risk including guarantees, insurance, and blended capital, as well as public-private partnerships.
This panel discussion brings together experts to discuss innovative financing approaches, identifying key success factors and the challenges and how they can be overcome. The session will also highlight the importance of collaboration and partnerships between various stakeholders in mobilizing resources and driving climate action in Africa.
Distributed by African Media Agency in partnership with AFSIC- Investing in Africa
About FSD Africa:
FSD Africa is a specialist development agency established in 2012 by the UK Government working to make finance work for Africa's future. We work on the ground in over 30 African countries to mobilise "green plus" finance that will power economic and social development while delivering environmental gains and building Africa's resilience. We work on policy and regulatory reform, capacity strengthening and improving financial infrastructure, and addressing systemic challenges in Africa's financial markets to spark large-scale and long-term change.
FSD Africa is part of a family of 10 financial sector deepening, or FSD programmes, operating across sub- Saharan Africa, known as the FSD Network. Together, the network provides over £50m a year in financial support to high-potential financial market development programmes, and employs over 150 financial sector experts, based in local offices across Africa.
About AFSIC
AFSIC – Investing in Africa has become perhaps Africa's most important annual investment event. The event is owned by Africa Events Limited. AFSIC is wholly focused on accelerating Africa's economic emergence by matching investment opportunities in Africa transforming Africa's business, trade and investment environment, growing Africa's economy, reducing poverty, and increasing African incomes in all business sectors at a continental scale across all 54 countries in Africa.
African Investments Limited (www.africaninvestments.co), a sister company to Africa Events Limited, operates two multi award-winning digital platforms, the AFSIC African Investments Dashboard which matches investment opportunities to our global network of institutional investors and the Africa Business Opportunities Dashboard, which matches business, trade and investment opportunities across Africa covering all business products, sectors, countries in Africa and multiple business objectives. The digital platforms won the global 2022 Salesforce Partner Innovation Award for Financial Services.
Resources:
Media contact:
Olivia Attenborough olivia@africaninvestments.co
The post FSD Africa @AFSIC 2023 appeared first on African Media Agency.
×
Get the latest news delivered straight to your inbox every day of the week. Stay informed with the Guardian's leading coverage of Nigerian and world news, business, technology and sports.