The African Union COVID-19 Bingwa Initiative and The Access Challenge Join Forces to Drive COVID-19 Vaccinations Across Kinshasa and Lualaba Provinces in The Democratic Republic of the Congo (DRC)April 24 – June 19, 2023
05 September 2023 | 12:00 pm
Kinshasa and Lualaba, DRC, 5 September 2023 /African Media Agency (AMA)/- Amidst the challenges brought forth by the COVID-19 pandemic in Africa, leaders have taken unprecedented steps to combat the virus. Most recent statistics show that about 52% of Africans have now been fully vaccinated against COVID-19 versus about 70% globally .2, 4 Although there is still…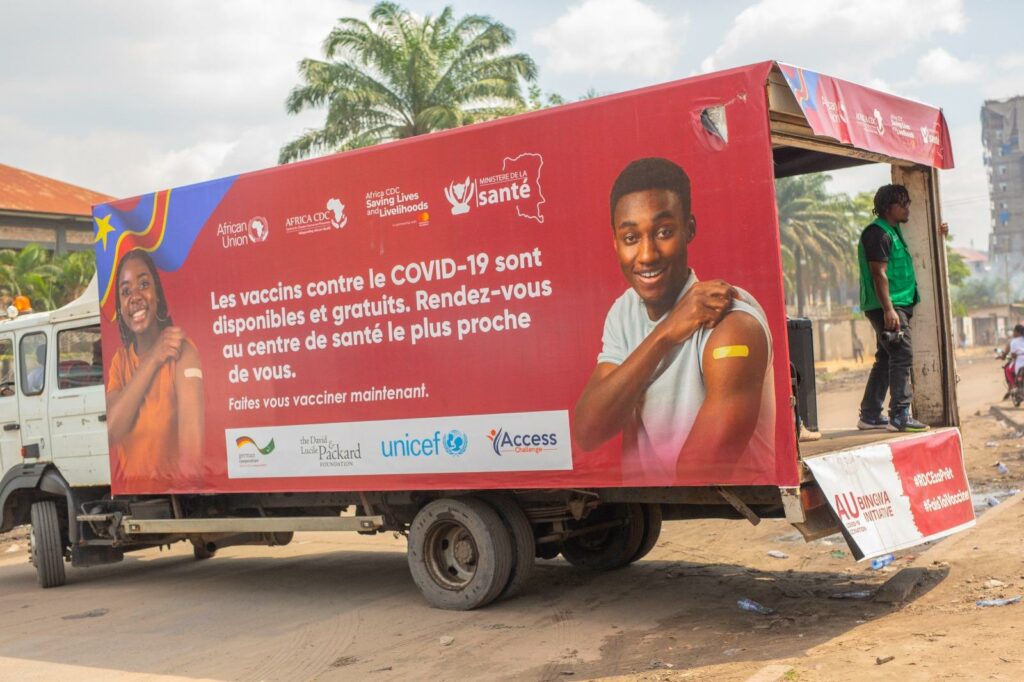 Kinshasa and Lualaba, DRC, 5 September 2023 /African Media Agency (AMA)/- Amidst the challenges brought forth by the COVID-19 pandemic in Africa, leaders have taken unprecedented steps to combat the virus. Most recent statistics show that about 52% of Africans have now been fully vaccinated against COVID-19 versus about 70% globally .2, 4 Although there is still work to be done to catch up to global levels, this number shows a massive improvement thanks to public health interventions.
As of June 19, 2023, the DRC in particular had a vaccination rate of 19%.2 While seemingly low in comparison to Africa, this rate represents a major improvement from early 2023, where vaccination rates were just below 10%. The DRC, one of Africa's largest nations, has seen a significant spike in vaccinations since early 2023, in part because of targeted mass-media campaigns to reach the last mile.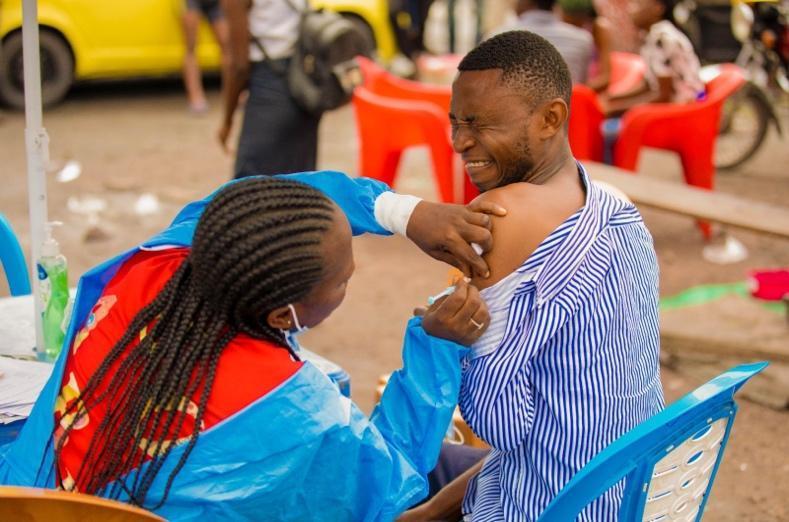 One of the major initiatives that contributed to DRC's increase in vaccination rates is a partnership between The African Union COVID-19 Bingwa Initiative and The Access Challenge, who joined forces to implement a COVID-19 vaccination campaign under the Saving Lives and Livelihoods Programme in partnership with The Ministry of Health of DRC in the Kinshasa and Lualaba provinces of DRC. The campaign implemented vaccination roadshows in both provinces, followed by a social media campaign with local and trusted influencers.
The African Union COVID-19 Vaccination Bingwa Initiative was launched in 2022 in response to South African President H.E. Cyril Ramaphosa's call for distinctive ways to accelerate COVID-19 vaccinations across Africa through the empowerment of the continent's youth. The African Union and Africa CDC led the initiative as part of the Africa CDC's Programme of Saving Lives and Livelihoods funded by the Mastercard Foundation. This campaign emerges as a network of COVID-19 vaccination youth called "Bingwa" (Swahili word for "Champion") who are empowered to drive mobilization and engagement within their communities to take the vaccine.
The Africa Centres for Disease Control and Prevention (Africa CDC) is making a deliberate effort to ensure that Africa's greatest asset, its young people, are fully involved in all public health strategies, including COVID-19 recovery strategies. The AU Bingwa Initiative brings together young people to use non-health ways such as community focus group and roadshows, entertainment, and influencer engagement to drive vaccinations. By keeping youth at the center of all strategies, together with utilizing
innovative partnerships with private and public sector partners as shown in this campaign, we have no doubt that Africa can achieve its vaccination goals by the end of 2023. – Dr. Chrys Promesse Kaniki, Africa CDC, Senior Technical Officer for Strategic Programmes
"The Ministry of Health identified the mass vaccination campaign as one of the strategies to rapidly increase COVID-19 vaccine uptake by the eligible population in DRC. 'We encourage community influencers to support social mobilization, strengthen risk communication, and community engagement through local communication and youth engagement using the Bingwa Initiative in getting more of the populations vaccinated" Dr Fabrice Kankolongo, Chief Medical Special Advisor, Office of the Minister of Health, Hygiene and Prevention Kinshasa.
In order to ensure vaccinations reach the last mile, the campaign engaged trusted influencers, together with innovative approaches that link health advocacy with community activities that appeal to the DRC's youth. These activities included mobile vaccination roadshows in various communities in Kinshasa and Lulalaba provinces, where they featured music performances, dance and acrobatic shows, motorbike taxi drivers engagement, comedy shows, and health expert talks to encourage people to get vaccinated. Additionally, a social media campaign complemented the vaccination roadshows, and leveraged local influencers to disseminate Africa CDC approval COVID-19 toolkit in local languages, debunking myths through real life influencer and citizen testimonies, and finally, using videos from the vaccination roadshows as a way to inspire more people to get vaccinated.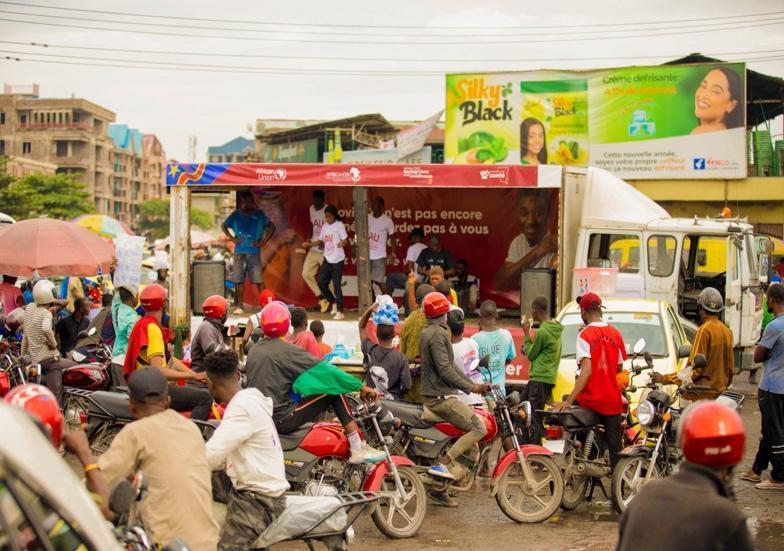 Influencers played a major role in the campaign, being involved through every step of the way from planning to execution—and, ultimately, affecting behavior change in their audiences. Whether major national celebrities like Miel De Son and Cynthia Kapash, or micro-influencers like Béatrice Munguba and the Shekina Dancing Group, all of these influencers effectively utilized digital media to reach their respective audiences to get vaccinated. Social media included Twitter, Facebook, Instagram, and TikTok, while traditional media included Media houses: Kin 24, Top Congo, Digital Congo, and RTGA Congo.
A major – and very well-received – aspect of the initiative was reaching the last mile through vaccination-themed mobile roadshows. Using campaign-branded mobile vaccination trucks containing a mobile stage and sound system, the roadshows traveled to populous areas within Kinshasa and Lualaba Provinces and featured vaccination "pop-ups" as well as performances and appearances by various influencers. Seven-day roadshows were held in Kinshasa, and four-day roadshows in Lualaba Province. Incentives, such as free shirts and caps, were also leveraged to drive vaccinations.
A particularly special moment occurred during the second day of the roadshows in Lualaba province, where the mobile vaccination truck was able to pull hundreds of people to get vaccinated, to the point where 100% of the vaccinations for the day ran out. With more than 300 people vaccinated that day, with more people wanting to get vaccinated – this highlights the power of these community roadshows to reach the last mile to remove vaccine hesitancy and drive vaccination demand.
Another notable moment were influencer testimonies, both during the roadshows and social media campaign, where famous DRC singer and media personality Miel De Son shared his testimony on taking the vaccine, then performed a rendition of his song, incorporating pro-vaccination lyrics in his song.
Amidst the unprecedented public health challenges, we face today- this campaign strives to highlight our innovative "surround sound" approach that leverages non-health ways such as influencer engagement, trending youth activities, bajaji taxis, community-based roadshows, and faith leader engagement to reach the last mile and save as many lives as possible. When all sectors of society come together, great progress is made, and that is evident through this campaign which was able to reach over 5.6 million people across the country, and significantly contributed in raising DRC's COVID-19 vaccination rates by over 10% through this campaign – Asad Lilani, Director, The Access Challenge.
In terms of impact, the campaign was able to reach 5.6 million people, create 24 million impressions, and generate approximately 11,000 engagements on social media alone (Instagram, Twitter, Facebook, and TikTok). The content was constructed in a way to captivate the youth audience through engaging captions and calls-to-action which influenced them to take the vaccine and become advocates in their communities.
The AU COVID-19 Vaccination Bingwa Initiative's partnership with Access Challenge demonstrates the power of innovation, youth engagement, and multi-sectoral partnerships to advance critical public health goals, which is highlighted through the campaign. Not only has it achieved notable success in vaccinating the DRC's population from the COVID-19 virus, but it has also cultivated a sense of responsibility and unity within communities to lead Africa to a brighter future.
Please click here to view a summary video of the campaign 
Distributed by African Media Agency on behalf of the AU Bingwa Initiative and The Access Challenge.
Africa CDC
Africa Centres for Disease Control and Prevention (Africa CDC) is a continental autonomous health agency of the African Union established to support public health initiatives of Member States and strengthen the capacity of their public health institutions to detect, prevent, control and respond quickly and effectively to disease threats.
Contact information:
Dr. Chrys Promesse Kaniki, Africa CDC, Senior Technical Officer for Strategic Programmes, Kanikic@africa-union.org
The Access Challenge
The Access Challenge (TAC) is a not-for-profit organization that envisions a world where the next generation of global citizens have what they deserve: equal access to educational and health services they need to thrive. TAC is currently implementing three campaigns: The One by One: Target 2030 Universal Health Care Campaign, The One by One: COVID-19 Vaccination Campaign, and The One by One: Youth HIV Campaign across Africa.
Asad Lilani, Director, The Access Challenge
asad.lilani@accesschallenge.org
References:
The post The African Union COVID-19 Bingwa Initiative and The Access Challenge Join Forces to Drive COVID-19 Vaccinations Across Kinshasa and Lualaba Provinces in The Democratic Republic of the Congo (DRC)April 24 – June 19, 2023 appeared first on African Media Agency.
×
Get the latest news delivered straight to your inbox every day of the week. Stay informed with the Guardian's leading coverage of Nigerian and world news, business, technology and sports.