Global Energy Alliance for People and Planet joins urgent call for increased investment and action in Green Growth and Climate Finance Solutions at Africa Climate Summit
01 September 2023 | 6:00 pm
GEAPP is a sponsor of the ACS, working with President Ruto, governments, the African Union, civil society, philanthropy and the private sector to advance Africa's interests in addressing climate change and driving sustainable economic growth with practical, hands-on technical assistance and funding. To date, GEAPP has invested more than $150 million in sub-Saharan Africa to…
GEAPP is a sponsor of the ACS, working with President Ruto, governments, the African Union, civil society, philanthropy and the private sector to advance Africa's interests in addressing climate change and driving sustainable economic growth with practical, hands-on technical assistance and funding.
To date, GEAPP has invested more than $150 million in sub-Saharan Africa to ensure a just, green energy transition for communities confronting climate change.
GEAPP commends the leadership of HE President Ruto to progress the climate imperative with this inaugural Africa Climate Summit and push for wide collaboration across Africa, with civil society, and between advanced and developing economies.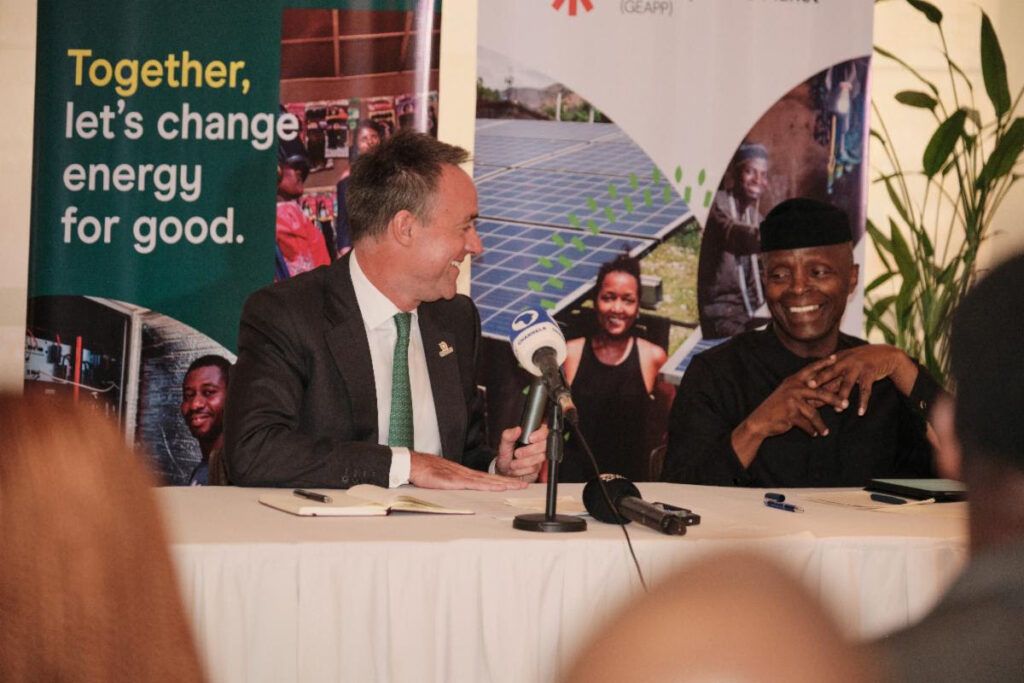 CEO Simon Harford and H.E. Professor Yemi Osinbajo
NAIROBI, Kenya, 1 September 2023 /African Media Agency (AMA)/- Ahead of the inaugural Africa Climate Summit (ACS) the Global Energy Alliance for People and Planet (GEAPP) has underlined President Ruto and the African Union's call for increased investment and collaboration to address pressing climate challenges in Africa and end energy poverty with clean energy. GEAPP is honoured to stand by the leadership of HE President Ruto and the Summit's mission to gather diverse stakeholders to take action. The Summit promises to spotlight the opportunity for Africa to play a pivotal role in bringing innovative technologies and solutions to the forefront of the global climate narrative.
Sub-Saharan Africa possesses some of the world's most valuable natural assets and unparalleled demographic advantage, including abundant solar potential and untapped wind generation. Despite this, it is the continent with lowest energy access and only receives 12% of the $250billion in climate investments it needs per year.
Over three days at the Africa Climate Summit in Nairobi, GEAPP and its Alliance partners will provide updates on their collaborative work in Africa to scale and accelerate renewable energy minigrids and the use of battery energy storage systems. They will also share learnings from their work to increase jobs related to green energy and the crucial steps needed to ensure clean energy also powers economic growth, job creation and equitable progress.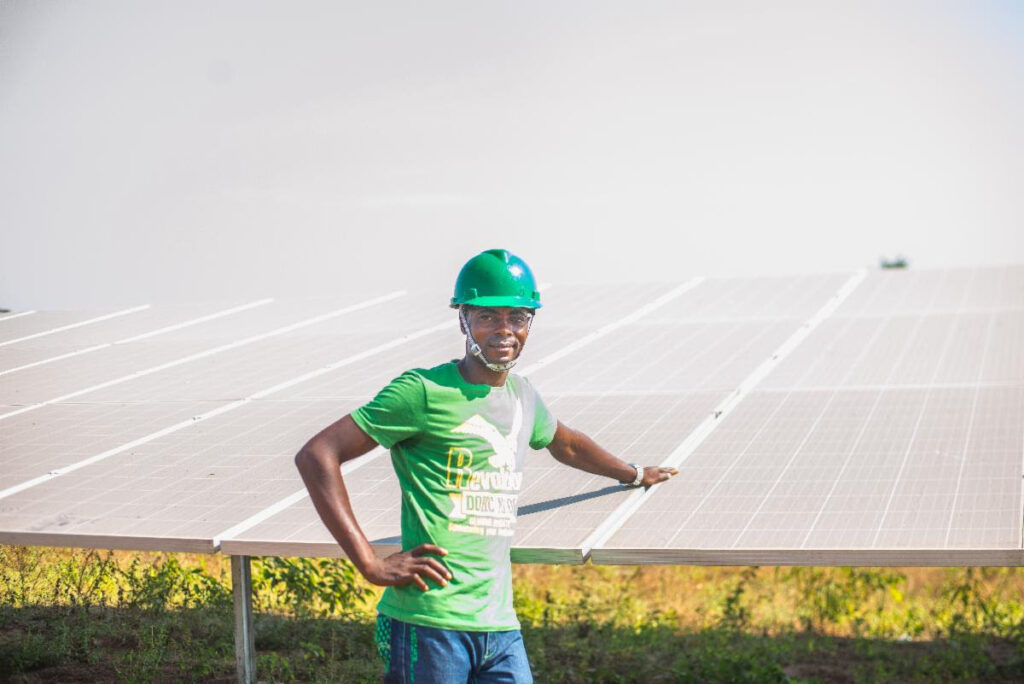 Addressing the session: 'Harnessing Africa's Renewable Energy Potential', Simon Harford, GEAPP's CEO, will draw on insights from the organisation's first 18-months of operations. Simon said: "GEAPP supports African governments as they work to place just, green energy transitions front and centre of the Summit and to collaborate on progress."
He continued: "The crisis is not impending. The crisis is here right now for all of us. Look at the impact of climate change on agriculture, livelihoods, and people across every country. This is real and urgent, and GEAPP is determined to make a difference. In our first 18-months of operation, GEAPP has begun actively working in DRC, Ethiopia, Malawi, Nigeria, South Africa, Sierra Leone, and Uganda; this Summit offers an important opportunity to commit to concrete actions and closer collaboration between Africa and the rest of the world."
Simon Harford will be joined at the Summit by GEAPP's new Global Adviser, immediate past Vice President of Nigeria, H.E. Professor Yemi Osinbajo.
Prof. Yemi Osinbajo said, "The Summit has put the opportunity to invest in Africa's green energy, technology and innovation resource at the forefront of the global discussion. I am delighted to be working with GEAPP, forging the partnerships and collaboration that can unlock this system change, hand in hand with governments, communities, funders and business across Africa and the world. By working together we can expedite the transition to clean energy and foster sustainable economic growth essential for Africa and the global community."
This first climate summit in Africa, offers a valuable opportunity to bring together varied stakeholders including civil society and financiers, to commit to concrete collaboration and actions for assessment at the next Summit.
GEAPP is an alliance of 20 partners founded at COP26 by the IKEA Foundation, The Rockefeller Foundation and the Bezos Earth Fund, and is an official sponsor of ACS.
By partnering with governments and fostering international alliances and collaboration, GEAPP is seeking to catalyse rapid change and a wider global movement towards a brighter, more sustainable world. Together, let's change energy for good.
Distributed by African Media Agency on behalf of GEAPP.
Notes to Editors
Initiatives underway by GEAPP and its partners will be discussed at ACS, helping share emerging learnings and scaling plans. These include:
A new Battery Energy Storage System (BESS) consortium: Africa has enormous renewable energy production potential but variability – the sun doesn't always shine, the wind doesn't always blow – must be addressed if a cost and reliability tipping point is to be reached. BESS systems are part of the answer. GEAPP is at work on several BESS pilots including in Malawi. Tackling its redundant 100MW solar potential with a 20MW BESS project, using a $20million capital investment supported by $6million in government technical assistance. GEAPP seeks to radically accelerate BESS in other parts of the continent, including Nigeria.
DRE Projects in eastern DRC: The private sector is a critical component in Africa's energy future. An example is GEAPP's investment in micro-grid developer Nuru, helping secure energy access for the world's second largest unelectrified population. This Series-B funding, completed in July 2023, will help build what is envisioned to become sub-Saharan Africa's largest off-grid solar hybrid metrogrid. The alliance is also actively exploring hydropower opportunities in DRC, which is ranked as the top country in Africa for hydro potential.
Stimulating demand with focus on productive use of energy: DREAM (Distributed Renewable Energy Modalities) is a programme launched by GEAPP in partnership with the Government of Ethiopia, the World Bank, the African Development Bank and others. This initiative envisages electricity access for over 290,000 remote individuals, generating 60,000 jobs and fostering economic empowerment, eventually culminating in the largest minigrid powered irrigation system on the continent.
Technology transfer to reduce the cost of distributed renewable energy: The Demand Aggregation for Renewable Technologies (DART) program provides a solution to high finance costs and lack of scale by ensuring price competitiveness and supply chain optimization. Currently piloting in Nigeria, the project has delivered $750,000 in savings on its inaugural $3million order. In the next five years, DART is expected to bring electricity to 5 million people.
Unlocking local currency financing: The Energy Transition & Access Facility for Africa (ETAFA), set up in collaboration with Chapel Hill Denham, is designed to increase the supply of Naira-denominated debt and equity for off-grid energy developers, improving commercial viability and scalability versus funding in foreign currency. The facility aims to deploy US$50million into Distributed Renewable Energy (DRE) projects across Nigeria.
About the Global Energy Alliance for People and Planet:
The Global Energy Alliance for People and Planet (GEAPP) is an alliance of philanthropy, governments in emerging and developed economies, and technology, policy, and financing partners. Our common mission is to enable LMIC's shift to a clean energy, pro-growth model that accelerates universal energy access and inclusive economic growth, while supporting the global community to meet critical climate goals during the next decade. As an alliance we aim to reduce 4 gigatons of future carbon emissions, expand clean energy access to one billion people, and enable 150 million new jobs. With philanthropic partners, IKEA Foundation, The Rockefeller Foundation, and Bezos Earth Fund, GEAPP works to build the enabling environment, capacity, and market conditions for private sector solutions, catalyze new business models through innovation and entrepreneurship, and deploy high-risk capital to encourage private sector solutions, and assist just transition solutions. For more information, please visit www.energyalliance.org and follow us on Twitter at @EnergyAlliance.
Contact:
Leah Butson
Account Director
+44 7871 269337
Gugu Mthimkhulu
Communications Officer, ACS
gugu@africacommunicationsgroup.com
The post Global Energy Alliance for People and Planet joins urgent call for increased investment and action in Green Growth and Climate Finance Solutions at Africa Climate Summit appeared first on African Media Agency.
×
Get the latest news delivered straight to your inbox every day of the week. Stay informed with the Guardian's leading coverage of Nigerian and world news, business, technology and sports.