MIPAD Honors Global Top 100 Achievers of African Descent at United Nations Featuring American Billionaire Robert F. Smith and World Health Organization Director Dr. Tedros A. Ghebreyesus
26 September 2023 | 6:00 pm
NEW YORK, 26 September, 2023,-/African Media Agency (AMA)/-Brace yourself for an infusion of global power as the annual Most Influential People of African Descent (MIPAD) Recognition Week 2023 kicks off from Friday, September 28th to Monday, October 2nd at prestigious 1 United Nations Plaza in New York City. Following the opening of the 78th United…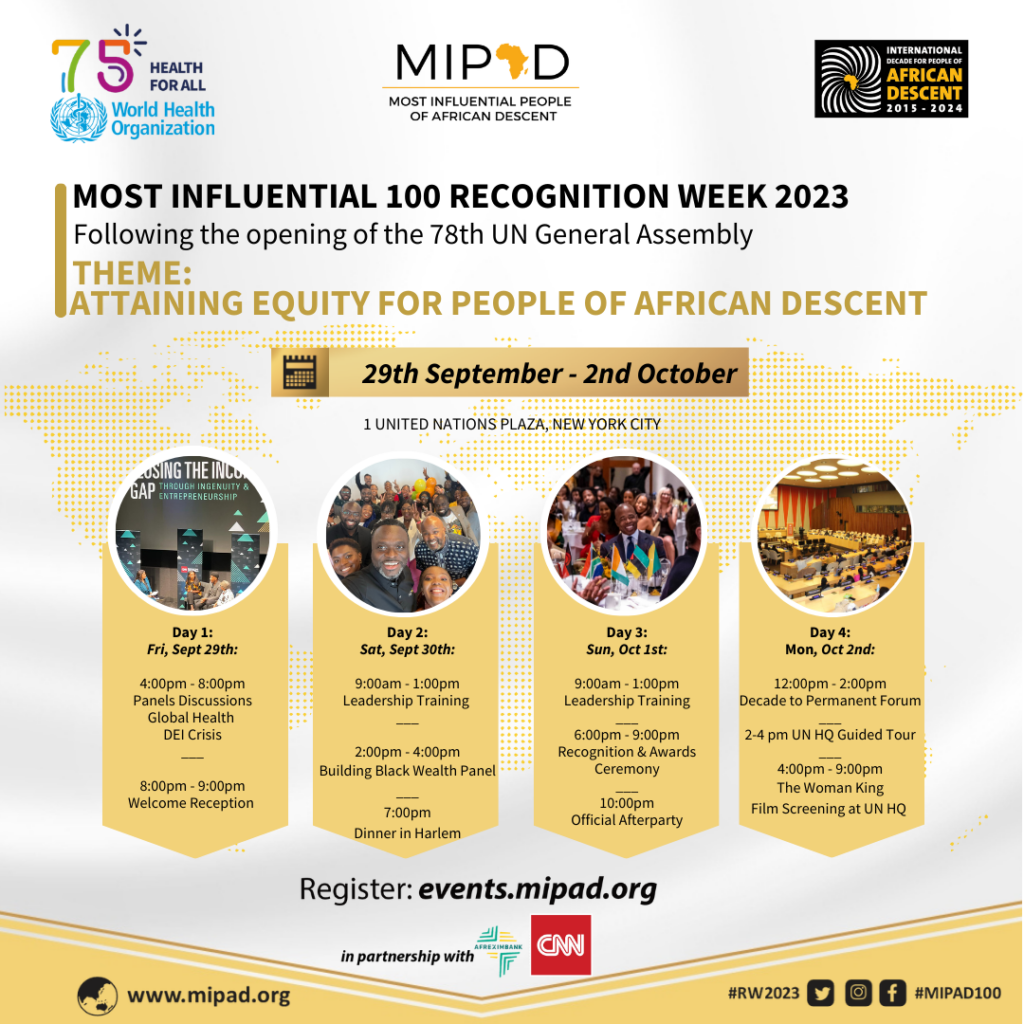 NEW YORK, 26 September, 2023,-/African Media Agency (AMA)/-Brace yourself for an infusion of global power as the annual Most Influential People of African Descent (MIPAD) Recognition Week 2023 kicks off from Friday, September 28th to Monday, October 2nd at prestigious 1 United Nations Plaza in New York City.
Following the opening of the 78th United Nations General Assembly, MIPAD hosts a weekend-long leadership summit and celebration for this year's global top 100 honorees that include Black humanitarians, politicians, business and media moguls from around the world. It is slated as the largest gathering of Black people from around the world from Argentina to Zimbabwe, showcasing black excellence worldwide.  The gathering culminates with the MIPAD Recognition and Awards Ceremony Sunday evening with history-making award recipients in the Lifetime Achievement category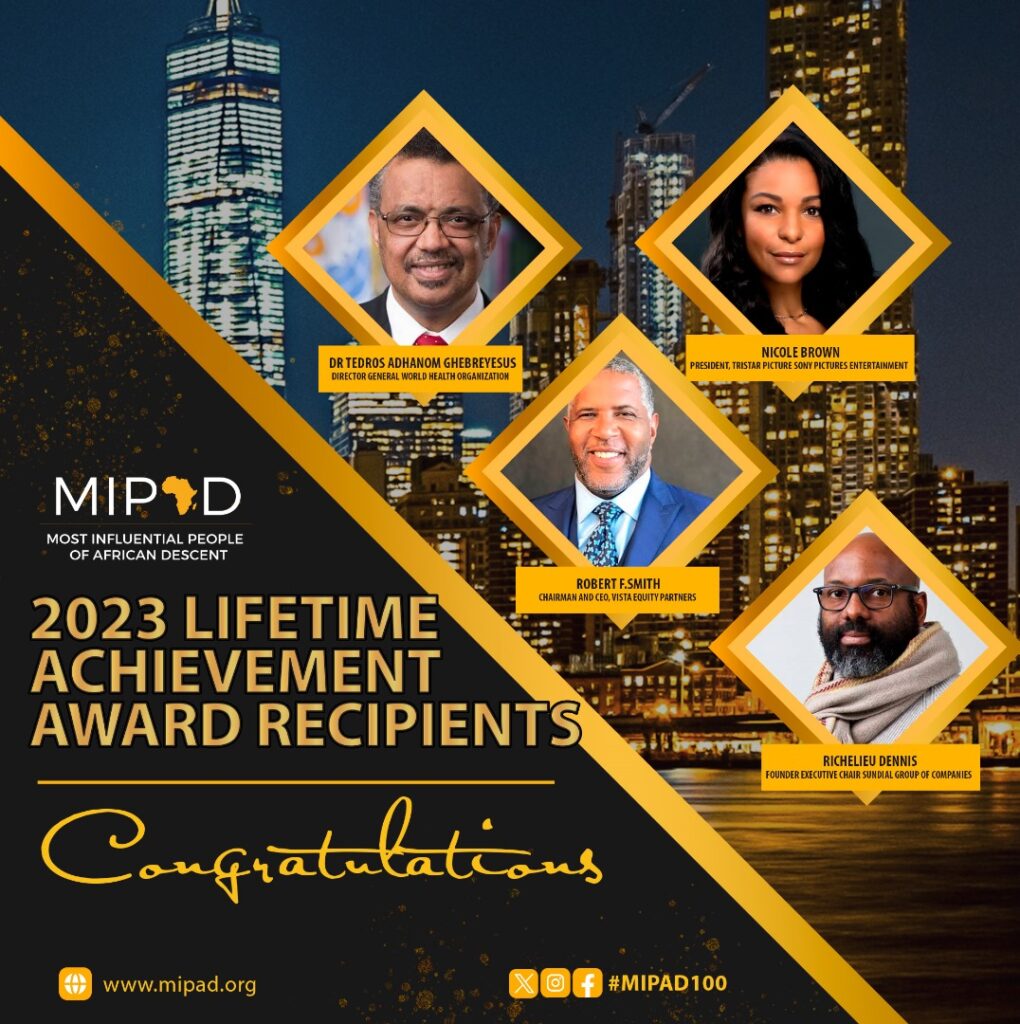 The recipients of the 2023 Lifetime Achievement Awards will be:
Nicole Brown, President, TriStar Pictures, Sony Pictures Entertainment (USA) – In 2019, Brown was appointed Head of TriStar Pictures, making her the first Black woman to run a live-action label at a major studio.
Dr. Tedros A. Ghebreyesus, Director-General of World Health Organization (Switzerland/Ethiopia) – The first person of African descent to lead the global organization in its 75 years history
Richelieu Dennis, Founder, Executive Chair Sundial Group of Companies (USA/Liberia) – Owner of ESSENCE Ventures, business leader and investor
Robert F. Smith, Chairman and CEO, Vista Equity (USA) – American billionaire businessman and philanthropist
These esteemed honorees have exhibited extraordinary dedication to society and have left an indelible mark on their respective industries.
Additionally, the Class of 2023 Global Top 100 is featured in two prestigious lists: the Health & Wellness Edition and the 100 Under 40 Edition. This recognition aligns with the first pillar of the International Decade for People of African Descent and commemorates the 75th Anniversary of the World Health Organization (WHO). Further information can be found at www.mipad.org/classof2023
Kamil Olufowobi, Founder & President, MIPAD, emphasized that these global lists are part of the organization's ongoing commitment to highlighting the positive contributions of people of African descent worldwide. "We continue to amplify global Black narratives, shedding light on untold stories of our struggles and triumphs, even in unexpected places and high positions," he added. This global assembly provides a platform for sharing local experiences and formulating global strategies to promote equity and equality in communities around the world.
MIPAD extends its heartfelt congratulations to these outstanding individuals and high achievers of African descent, acknowledging their significant contributions to humanity.
The theme for 2023, inspiring the week's activities, is "Attaining Equity for People of African Descent Worldwide." Olufowobi also unveiled an exciting lineup of events for the weekend, including global conversations with CNN journalists, meaningful networking opportunities, panels, leadership training by Momentum Education, the recognition awards ceremony and a tour of the United Nations Headquarters.
This global gathering aims to foster discussions on common threads, best practices, and opportunities for collaboration to advance the equitable economic prosperity of people of African descent worldwide.
We cordially invite you to join us in paying tribute to these exceptional personalities and high achievers of African descent from across the globe, as we honor their remarkable contributions to humanity.
Registration for the events is NOW OPEN at events.mipad.org, and we eagerly anticipate your presence among the ranks of global changemakers and distinguished guests, coming together to celebrate these outstanding individuals of African descent for their positive impact on our world.
Please contact info@mipad.org for more information.

Distributed by African Media Agency (AMA) on behalf of MIPAD.
About Most Influential People of African Descent (MIPAD)
The Most Influential People of African Descent (MIPAD), is a global civil society initiative in support of the International Decade for People of African Descent, proclaimed by United Nations General Assembly resolution 68/237, to be observed from 2015 to 2024. MIPAD identifies high achievers of African descent in public and private sectors from all around the world as a progressive network of relevant actors to join together in the spirit of recognition, justice and development.
MIPAD's Global Most Influential 100 Publications 2022 | 2021 | 2020 | 2019 | 2018 | 2017
Country Director USA
Brandon Andrews, MIPAD, +1 (202) 831-3031 brandon@mipad.org USA
Communications Contacts
Africa Media Agency (Inside Africa)
Shining Army (Diaspora)
The post MIPAD Honors Global Top 100 Achievers of African Descent at United Nations Featuring American Billionaire Robert F. Smith and World Health Organization Director Dr. Tedros A. Ghebreyesus appeared first on African Media Agency.
×
Get the latest news delivered straight to your inbox every day of the week. Stay informed with the Guardian's leading coverage of Nigerian and world news, business, technology and sports.