OPEN Startup: Empowering Coaches in Senegal with enriching Training and New Collaborative Partnerships
15 September 2023 | 12:00 pm
DAKAR,Senegal, 15 September 2023 -/African Media Agency(AMA)/-Following the success of last year's edition in Morocco and Tunisia, the Training of Trainers (TOT) is set to make its much-anticipated debut in Senegal, providing another transformative opportunity for professionals within the country. This dynamic program, collaboratively designed and delivered by OST and Columbia University, continues its mission to enhance…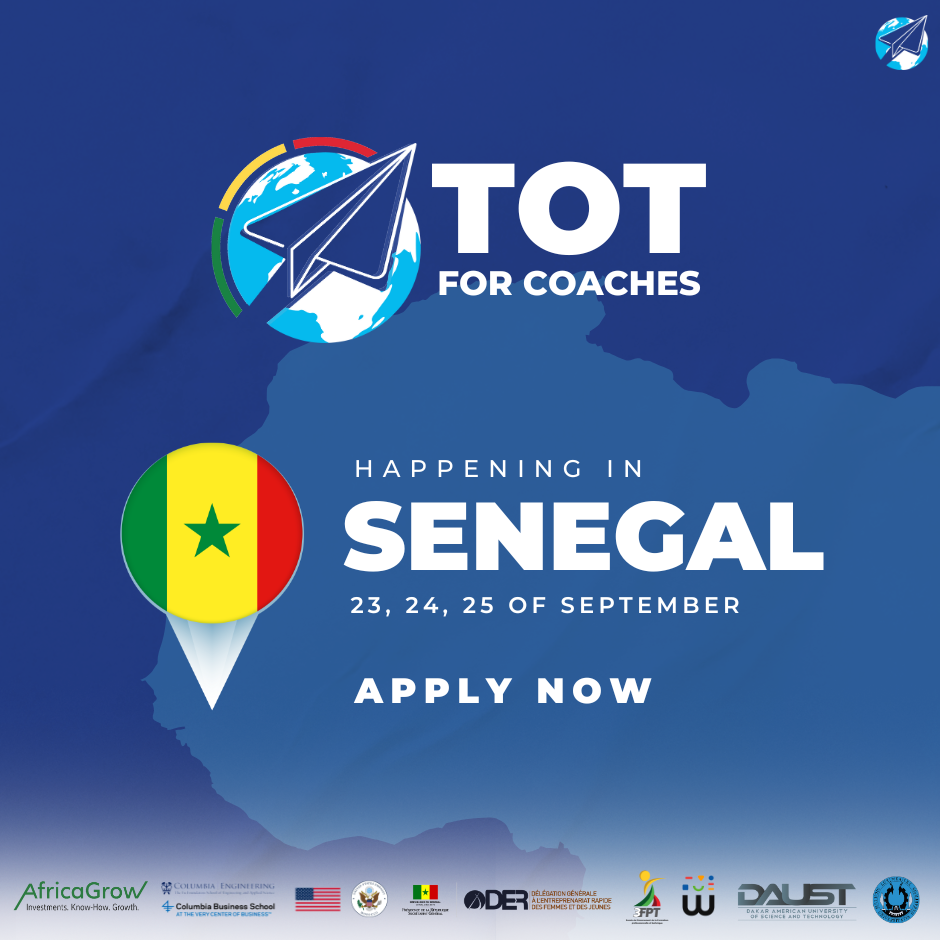 DAKAR,Senegal, 15 September 2023 -/African Media Agency(AMA)/-Following the success of last year's edition in Morocco and Tunisia, the Training of Trainers (TOT) is set to make its much-anticipated debut in Senegal, providing another transformative opportunity for professionals within the country.
This dynamic program, collaboratively designed and delivered by OST and Columbia University, continues its mission to enhance coaching skills, elevate entrepreneurial support, and promote collaboration within Senegal's thriving innovation ecosystem.
Scheduled for September 23rd, 24th, and 25th, 2023, in Dakar, TOT is meticulously tailored for coaches, faculty and practitioners involved in supporting entrepreneurs. Senegal's burgeoning entrepreneurial landscape is poised to derive substantial benefits from the knowledge-sharing and capacity-building prospects this program provides.
Participants in the Training of Trainers (TOT) program in Senegal can expect a comprehensive experience aimed at elevating their coaching proficiency. Through this dynamic initiative, attendees will acquire invaluable insights and strategies to deliver more effective support to entrepreneurs, ultimately driving business growth and ensuring success.
Additionally, the program will focus on capacity enhancement within the entrepreneurship support system in Senegal. This means empowering professionals with the tools and knowledge to offer more targeted and impactful assistance to emerging businesses and startups. Moreover, the TOT provides a unique platform for professionals to engage in a profound knowledge exchange. It serves as a hub for networking, idea-sharing, and collaborative endeavors, all of which contribute to the enrichment of Senegal's entrepreneurial ecosystem, creating a more robust and interconnected business environment.
Prospective participants are strongly encouraged to apply for this exceptional training program via the provided application link before the deadline of September 17th, 2023:
"We are thrilled to bring the TOT for Coaches program to Senegal in collaboration with a prestigious consortium of partners," stated Zack Temtem, Head of International Expansion at OST. "This initiative underscores our dedication to fostering entrepreneurship in Senegal and cultivating a supportive ecosystem for emerging businesses."
The program's esteemed partners include AfricaGrow, Columbia Engineering, Columbia Business School, U.S. Embassy Tunis, AfricInvest Group, Délégation Générale à l'Entreprenariat Rapide des Femmes et des Jeunes – DER/FJ, 3FPT: Fonds de Financement de la Formation Professionnelle et Technique, Concree (Wecomcom), Dakar American University of Science and Technology (DAUST), and Ecole Supérieure Polytechnique (officiel) (ESP).
Our commitment remains steadfast in advancing and empowering Senegal's entrepreneurial community while fostering innovation within the ecosystem.
Distributed by African Media Agency (AMA) on behalf of OST.
About OST:
Open Startup (OST) is a non-profit organization serving as a regional hub for startups in North Africa and the Middle East. OST's mission is to foster entrepreneurship and innovation by providing access to resources, networks, and mentorship across continents. Through its various programs, OST supports startups and entrepreneurs in building and scaling their businesses, driving economic growth and job creation in the region.
Media contact
Email: press@dabuzzconsulting.com/ hello@open-startup.org
Phone: 0661722200
The post OPEN Startup: Empowering Coaches in Senegal with enriching Training and New Collaborative Partnerships appeared first on African Media Agency.
×
Get the latest news delivered straight to your inbox every day of the week. Stay informed with the Guardian's leading coverage of Nigerian and world news, business, technology and sports.